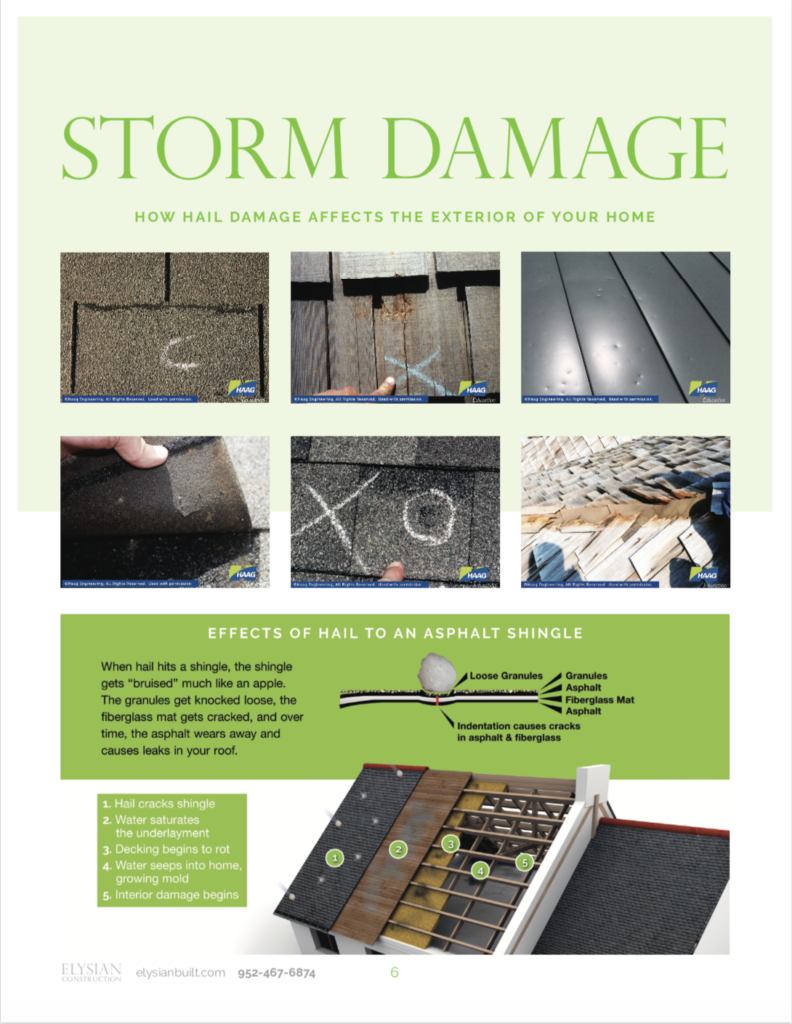 Effects of Storm Damage on Your Roof
Although the dents and cracks in your shingles may look minuscule, they have the potential to fester over the course of several years and become a major problem. It often takes up to 5 years for a leak to form due to storm damage, but at that point it may already be too late to file an insurance claim. Catching storm damage as soon as possible allows you to make use of your insurance and save yourself thousands of dollars down the road. If your roof has recent storm damage click here and contact Elysian Construction to help you file an insurance claim and fix your roof.
Most shingles are made up of four layers. They consist of a fiberglass mat coated on both sides with asphalt, and covered in solid granules. The fiberglass mat is used to reinforce the asphalt around it and is much more fire resistant than any material previously used for that purpose. The asphalt then creates a waterproof barrier on both sides of the fiberglass. Along with the overlapping design of the shingles and the slope of the roof, the asphalt works to keep water from damaging the wood beneath. Finally the granules on the top of the shingles serve multiple purposes. They create a more durable outer layer for the shingles, and offer protection against the sunlight, which can cause the shingles to deteriorate. Additionally, they provide color to the roof which can offer temperature control for the house and save on heating and cooling bills. To learn more about how shingles work click here.
There are multiple types of roofing materials used in the United States including asphalt, tile, metal, and wood, along with several sub-types of each of those materials. Click here to find out what roofing material is best for your needs. Asphalt shingles are currently the most common type of roofing material in the United States but due to an increased desire for energy efficiency, that number is declining and many people are choosing a metal roof instead.