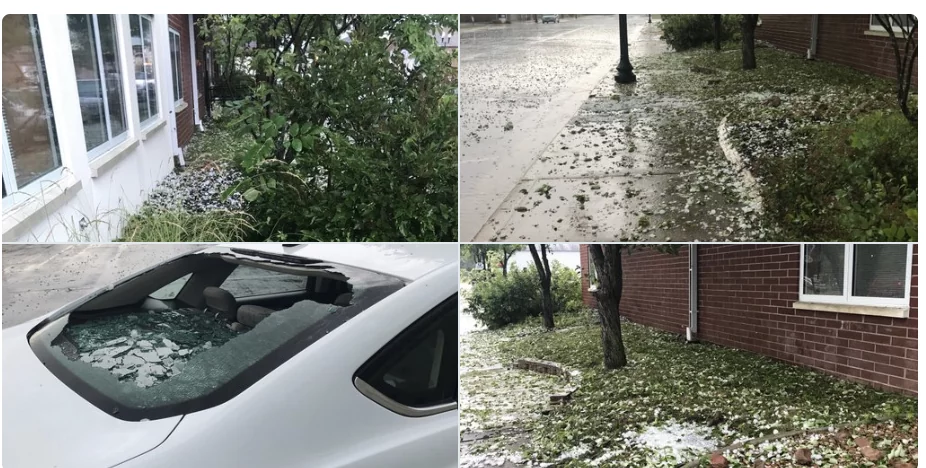 Hail Damage Affects Minnesota Homes in Medina, Delano, Maple Grove, and Plymouth
On Monday, August 5th, a severe hailstorm pummeled the Delano, Medina and Maple Grove . The hail hit heavily during two short waves but chunks of ice as large as four inches in diameter were reported in the area.
Residents were terrified as baseball sized chunks of ice plummeted onto their homes, businesses and cars. Wind gusts up to 78 mph only added to the chaos as residents reported hearing people screaming, glass breaking, dogs barking, and of course the pounding of the hail. The Delano and Medina area was hit the hardest but other nearby areas were also hit very hard. Car windshields were smashed, windows and siding on homes were broken and people were terrified.
Although it was a terrifying ordeal for the residents of areas struck by the massive hail, the problems didn't end with the storm. Homeowners left their homes after the storm to find massive amounts of damage to the exterior of their home. They are now in need of major repair work to fix their home. Luckily, home insurance covers most storm damage, so the repair costs won't have to be covered solely by the homeowners.
For those in need of repair work, most consumer advocates recommend working with a licensed, local company as they are most likely to truly stand behind their work. Many companies that come after major storms are traveling storm chasers, and will likely just be in and out, so it is not recommended to work with contractors from out of state. Elysian Construction is a Minneapolis-based company that has been serving local homeowners for more than 12 years. We have extensive experience with all types of storm damage and are experienced with dealing with insurance companies to get homeowners the most possible money for repairs.
———–
If you live in the Delano, Medina, Plymouth, or Maple Grove area then your home most likely has sustain damage from this storm. To contact Elysian Construction for a free, no-obligation inspection or just to learn more about us, click here or call us at 952-467-6874 and we will send one of our experts to your home as soon as possible.
We can not only provide you with a free storm damage inspection, but we can also assist you through the entire insurance restoration process.